Trip Report: 2000 Foot Ridge
March 25 (Fernie backcountry, BC) —
In the hot tub at the Fernie Aquatic Centre (which is awesome, btw), we learned that it was spring break for Alberta schools.  Thus explaining the crowds at the ski resort.   So we started planning a backcountry tour
We visited all three local ski shops and no one wanted to give up beta on their favorite tours until we realized that, like their American counterparts, Canadian ski bums will do pretty much anything for beer.  Guinness was traded for info and maps, and off we went.
To fortify ourselves for the long day ahead, we started with McGregor-style eggs (made from farm fresh eggs compliments of Big Dan and Gretchen) with Frances' bacon:
We parked at the trail head off Island Lake road and let Pancha out for a wander:
And then we started our trek, over the river and through the woods:
After a few hours of climbing, our destination — Fish Bowl — came into view:
Our goal was to skin up the treed ridge on the right-hand side of Fish Bowl and then descend before reaching the chutes that lead down into the obvious avy path (called the Cement Mixer for good reason — lots of evidence of prior slides including a large debris field at the base).
David told me that the ridge was called 2000 Foot Ridge.  Isn't Canada on the metric system?  Why would they use feet?   Of course, once we were halfway up and tired I was super happy that it was only 2000 more feet of ascending.   As to why it's named using feet, David came up with an answer:  2000 feet is likely close to 666 meters.
While we were ascending, we watched two skiers descend through one of the Cement Chutes, setting off a couple of small slides that ran for a few hundred feet at least.  Neither of the skiers got caught in their sluff, but it confirmed our plan to descend before reaching the peak.
We descended from the shoulder of the ridge next to the trees and it was super fun.   Corn in the sun and powder on the north facing aspects.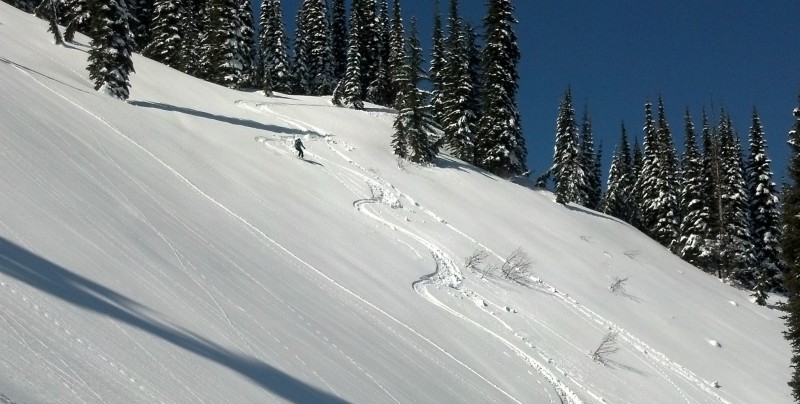 We were beat after the 6 hour tour, so headed straight back to the hot tub, steam room and showers at the Aquatic Centre.