Wild Dogs are Like Happiness
October 24-31 (Maun, Linyanti and Jao Reserves, Botswana; Gobabis, Namibia) —
After three weeks of camping on our own and one too many restless nights caused by the heat and/or the baboons, we decided to pamper ourselves and book into some fancy lodges. When we went to southern Africa in 2008 for our honeymoon, we called a travel agent and arranged a last minute package (leaving that day) at some pretty flash resorts – e.g., Little Mombo (http://www.travelandleisure.com/articles/worlds-best-hotels-2013/2) for a ridiculously cheap rate (less than 10% of rack rate). We called the same agent, and she again scored us a screaming deal leaving the next day out of Maun.
The long drive from Kasane to Maun was uneventful except for the hundreds of wild donkeys on the road and a recently killed elephant on the shoulder of the road. We love elles, but I couldn't help but think of the poor driver that was likely vaporized when his truck met the elle late at night on the highway.
At the airport, we took a limo to our private plane to our first camp – DumaTau.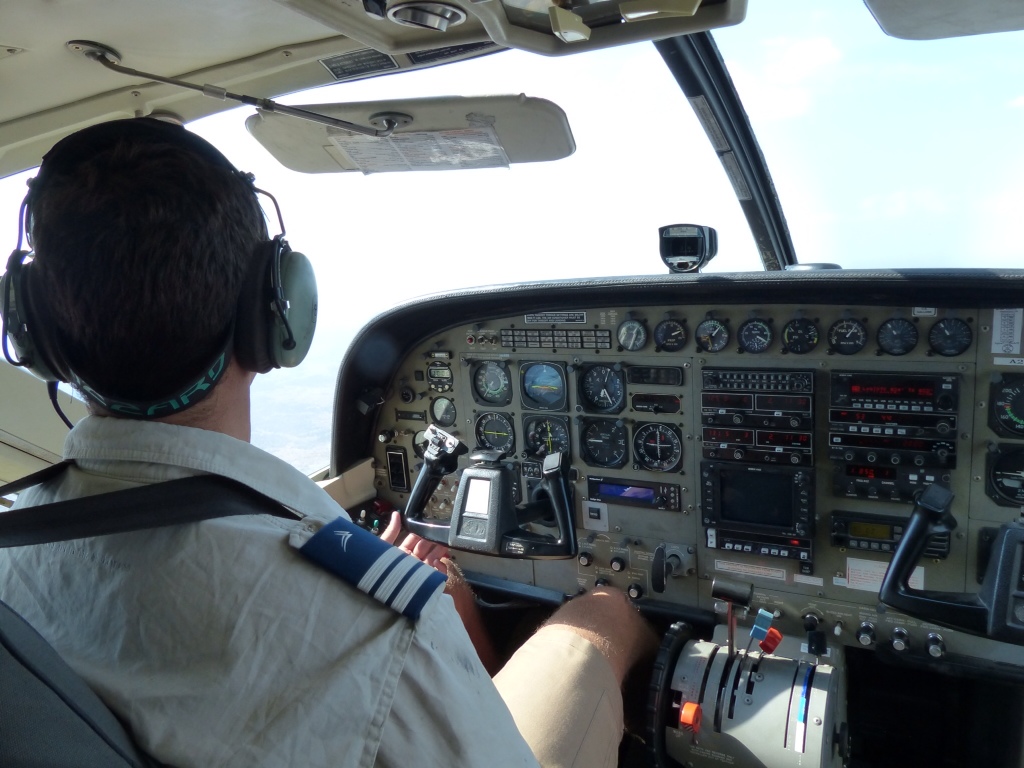 Duma Tau is in the Linyanti and is one of the fancy camps across the Chobe River from where we were in the Caprivi the previous week. Upon arrival at camp, we were met with lots of alcohol and food. Since our guide would be driving, we got stuck into it with our traveling companions assigned to the same guide – John, a 30 year-old-Kentuckian who was now running a mining site in Zambia, and two sisters from Chicago. John was even happier to be amongst "civilization" than we were, and even happier to be drinking something other than lukewarm Zambian beer.
Our "tent" was about 300 times larger than the one on top of Jimmy in which we had been camping:
We saw lots of elles and red lechwes, as well as a beautiful sunset, on our first game drive.
We didn't get any pictures of the lechwes in motion, but watching them run through the marshes is amazing. Here's a shot I stole from Google:
After sundowners on the water, we had a night drive on the way back and saw this gorgeous giant owl.
Dinner at these fancy places is at a communal table. We ended up sitting next to a couple from Guatemala who couldn't have been happier to have a Spanish speaker (yes, I mean Victoria) seated next to them. While Victoria kept up a rapid conversation with the Guatemalans, I had my first run in with the American retirement police. Some drunk Republican let it be known that we were "too young to be retired' and "it must be because we had inherited a bunch of money." He was baffled that we had voluntarily left lucrative positions and had earned every single cent that we have. His hackles really went up when I said that we may eventually do some work such as veterinary nurse or ski patrol for fun because "if you may work again, then you're just not retired." Ignoring the bore, Victoria, John and I retired to a bonfire on the water that the staff had set up.
We were joined by a lovely couple (Chip and Donna) who were from the other side of the tracks from where David grew up outside of Chicago. They were a load of laughs, in particular once we realized that the D1, D2, D3, and D4 they were discussing were not NCAA sports but rather how Chip kept track of their four daughters after he kept screwing up their names. Even more humorous was listening them to debate which of their daughters would be best for John. We had to laugh when they thought that D2 – a "shoe buyer for [large fancy department store] in Manhattan—would be a good match" for the guy living in the bush.
Our wakeup call the next morning came way too early, and although we struck out finding the wild dogs for which Duma Tau is famous, we did come across an amazing leopard and a cub. The mother had killed the impala and dragged it up in the tree.
While we watched, the baby went to have a snack and caused the impala to fall to the ground. This was a huge problem because lions or even hyenas will steal a leopard's kill if it remains on the ground. The mother looked at the cub like it was a dumbass – it was – and let it fend for itself for a while.
This included standing by while the cub got the impala stuck on a tree branch on the ground while trying to drag it back to the tree trunk.
The mother went up the tree to chase off some vultures at one point and then came back down the tree to retrieve the impala herself.
The baby leopard watched while the mom did all the work.
With the impala re-secured, the two leopards relaxed in the shade.
After the leopards, we came across two male lions cuddling during nap time.