South Africa: Mountains, Oceans, and Good Eats
October 31 – November 19 (Cape Town, Franschhoek, Paarl, Stellenbosch and Kalk Bay, South Africa) —
We arrived in Cape Town to an overcast day and headed to the Westin, our home for the next five nights.
It was weird to be in a city for the first time in two months, but we loved the amenities that the Westin and city had to offer – i.e., while we plotted our itinerary, we didn't leave our room for the first 24 hours, living off room service and delivery.
The weather cleared over the next few days and we explored Cape Town. The V&A Riverfront is a lovely redevelopment of the harbor similar to Auckland harbor with some hints of San Fran's Fisherman's Wharf.
There is a market with stalls selling a variety of gourmet food stuffs as well as stalls selling prepared foods such as waffles, crepes, tapas, wood-fired pizza and amazing seafood caught that day – The Fish Box was our best find.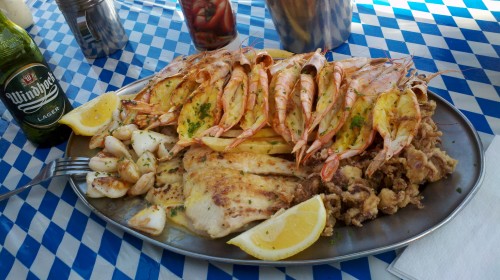 Wherever we went, the wine was tremendous and cheap. We never paid more than $20 for a bottle and never had a bad bottle. After one of our drinking lunches, we ended up on the ferris wheel for great views of Table Mountain.
Venturing further afield than V&A, we hit the Pot Luck Club restaurant which is a tapas place run by the chef that also runs the restaurant voted best in South Africa for two years running. It was amazing, and because the South African Rand is the only currency currently doing worse than the US Dollar, it was cheap as could be.
Noticing that we only had one more good weather day in the foreseeable future, we decided to go rock climbing on Table Mountain. We did not bring trad gear with us and the routes are not bolted so we hired a guide, Ross, who runs highadventure.co.za. He was a great guide and extremely knowledgeable. A longer than expected hike (too much wine . . . .) brought us to the start of Jacob's Ladder, a world class multi-pitch 5.7. Russ led, while V and I followed simultaneously.
The views were tremendous, and after a great day, we enjoyed taking the gondola down with huge grins.
From Cape Town, we headed to wine country with rain in the forecast. Given the state of the Rand, we looked up the Top 10 restaurants, most of which were either in Cape Town or the Winelands. We decided to eat at as many as we could on days we were rained out.
We first booked ourselves into a lovely cottage on an orchard in Franschhoek that was within walking distance to three of the vineyards with Top 10 restaurants. Well, the cottage was lovely except for the one larger-sized beetle that we killed with a shoe which immediately turned into 1000 baby beetles like something out of a horror movie. We did not sleep until we hunted all of them down.
Our first lunch brought us to Bread & Wine on the Moreson wine estate.
I had the lamb and V had the risotto with soft egg. We then split a passion fruit soufflé. All of it was to die for.
We were too full for dinner, other than fresh bread and jam we had picked up at Bread & Wine. Lunch the next day was at The Kitchen at La Maison, a recent Top 10 nominee.
The restaurant was beautiful, but the food was mediocre in the sense that it was trying a bit too hard and the flavors just didn't work. So V took pictures of the decor instead.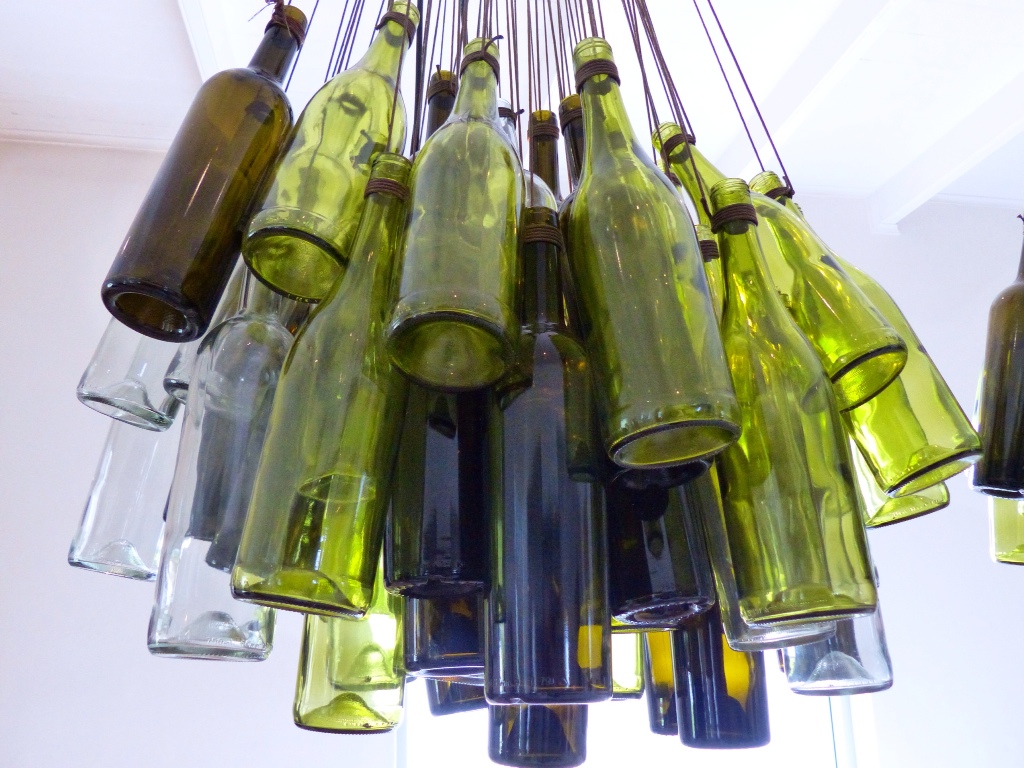 We made up for it with dinner at Grande Provence, a winery that was founded by French Huguenot immigrants in the late 1600's.  The wine, food, and décor were amazing, and it's no wonder that it has won so many awards.
The weather cleared the following day, and we drove to the nearby town of Paarl – well known as the nearest town to the prison from which Nelson Mandela was released in 1990. Paarl is known for its slab climbing, and we enjoyed playing around at Paarl until dark clouds rolled in and drove us inside to get pizza.
From Franschhoek, we headed to Stellenbosch, a university town with many top-shelf vineyards nearby. Our first dinner was at Jordan, a winery that some of you may recognize since some of it's best wines are imported to the States. Views again were tremendous, and the food even better.
Even better was our dinner the following night at Overture on the Hidden Valley wine estate.
Feeling a bit stuffed, we decided to go mountain biking in an area called Jonkershoek. We rented top-shelf Specialized mountain bikes at a terrific place called Ride In that had a bike shop, cafe, and showers in a converted old house. We didn't push it but got in a nice spin.
Afterward, we went to Terroir on the Klein Zalze wine estate, which fortunately had an a la carte menu instead of the typical three or four (or more) course prix fixe menus offered at the other top restaurants.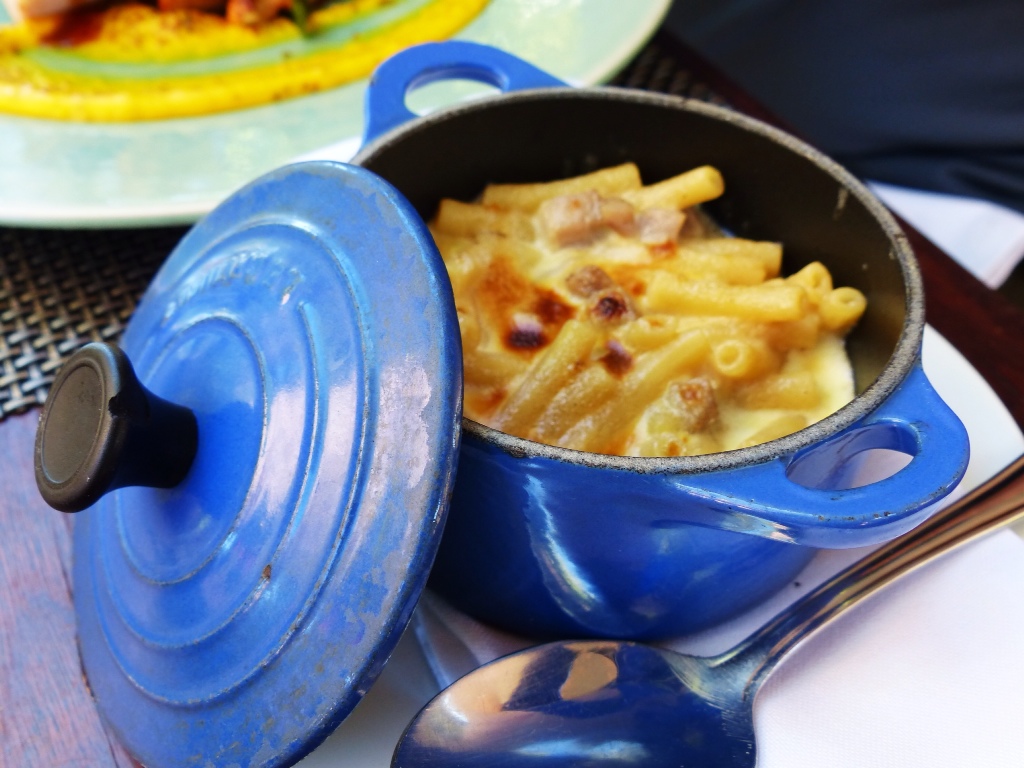 From the Winelands, we headed to the beach at Kalk Bay.  V found us a baller house called Bishop's View to rent that was two blocks from the beach.
Again, thanks to the state of the Rand, it was dirt cheap (less than $150/night). The only thing missing were friends with whom to share the four bedrooms, yoga room, steam room, and pool. There was a lovely crag behind our house, but unfortunately, the sun was near the horizon before we found the climbs so we had to turn back. After returning to town, we ate delicious prawns right on the ocean at the Harbor House.
We had planned to surf, and when we saw a white flag with a shark on it, we thought we were golden because white means good, right?
Wrong. White means that a great white has been spotted.
Indeed, we soon learned that a whale carcass had washed up on shore. In the three mile stretch of beach where we were staying, sixteen(!) great white sharks were spotted in a day.
There would be no surfing for us this week.
Instead, we went climbing at the nearby crag called Silvermine.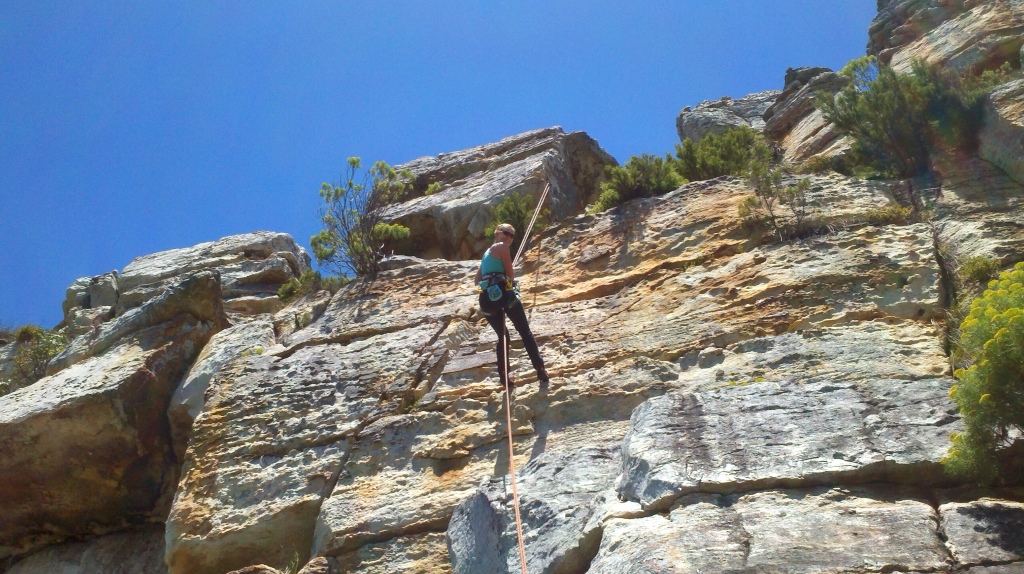 The views in both directions were outstanding.
After a full day of climbing, we hit the restaurant at one of the nearby vineyards in Constantia — Buitenverwachting — based on a recommendation from a local.  He told us to order the burger, and it was undoubtedly the best $7 burger ever.
It was also the fanciest location ever for a messy burger – a two-hundred year old vineyard with mostly expensive German and Italian cars in the parking lot.  And before we got to the burger, they served both an amuse bouche and a palate cleanser.
The following day, we headed down to see one of only two mainland penguin colonies in the world at Boulders Beach.  The penguinos were awesome.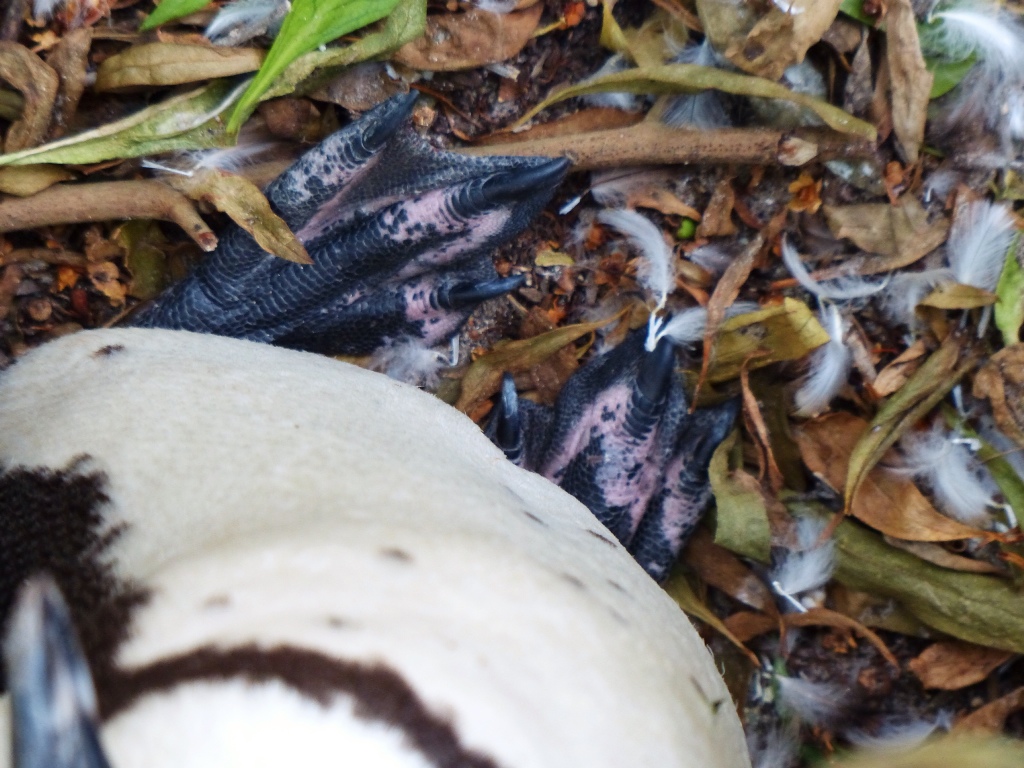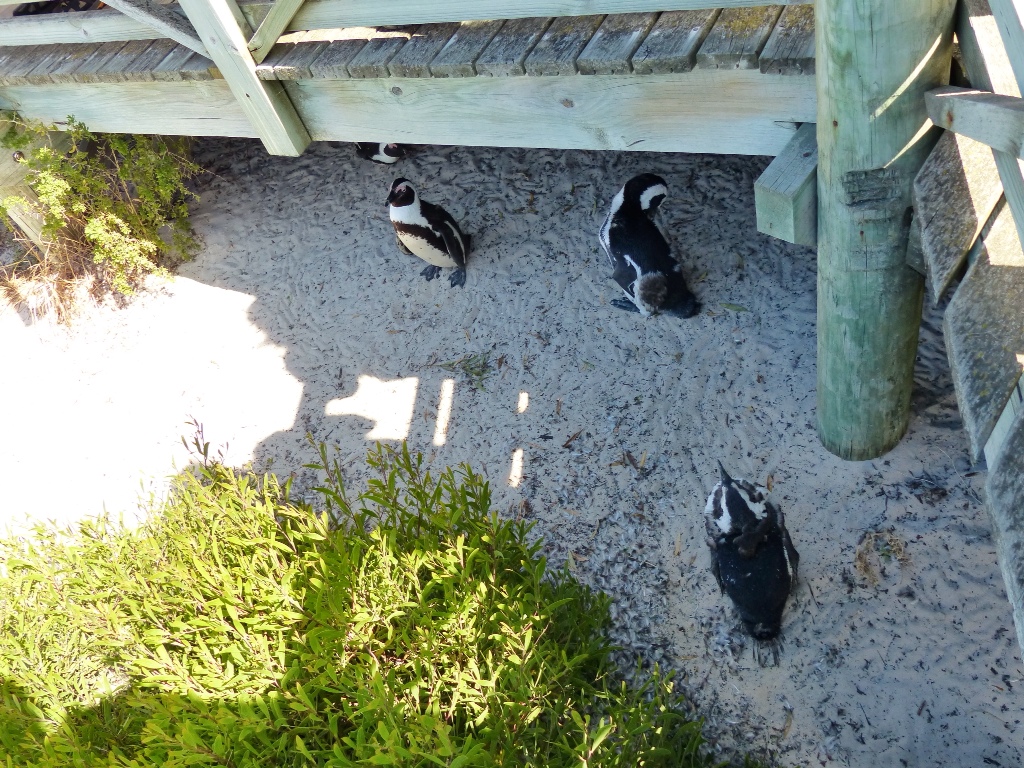 From Boulders, we headed down to the Cape where the Atlantic and Indian oceans collide.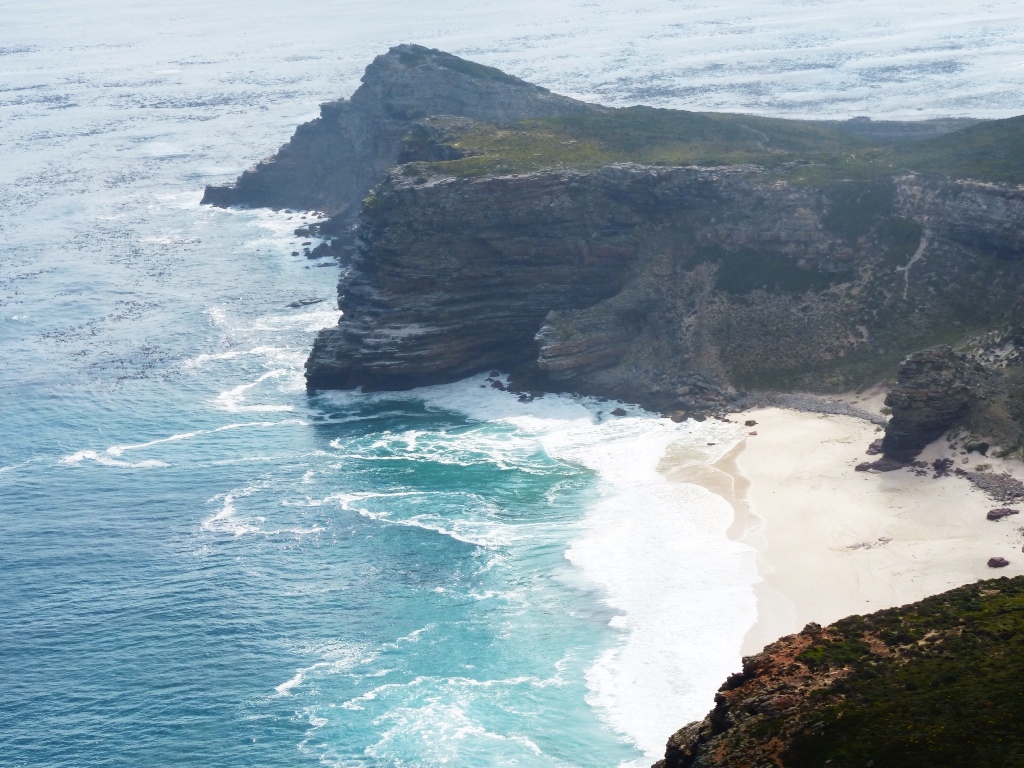 It was a beautiful place. But baboons were again a problem. The views and hiking made up for it, and we again successfully avoided any conflict, although the car next to us what not so lucky as the baboons succeeded in opening their door.
The weather refused to cooperate for the remainder of our time in Cape Town, so we spent it at an indoor climbing gym and eating way, way too much.  We discovered the downstairs neighbor of Pot Luck Club, called Burrata.  Run by a South African chef who trained in the Bay Area and has an American wife, Burrata served the most amazing Napoli-style pizza we've had since Pizzeria Mozza in Los Angeles. The Zimbabwean pizza chef, with whom we chatted over the bar around the pizza oven, was truly a master of his art. We loved it so much that we ate there again the next night.
On our last day, we took the ferry to Robben Island for a tour of the prison where Nelson Mandela and other political prisoners were held during apartheid. Our guide was a former political prisoner who was held there from 1980 to 1989.  It was a moving experience.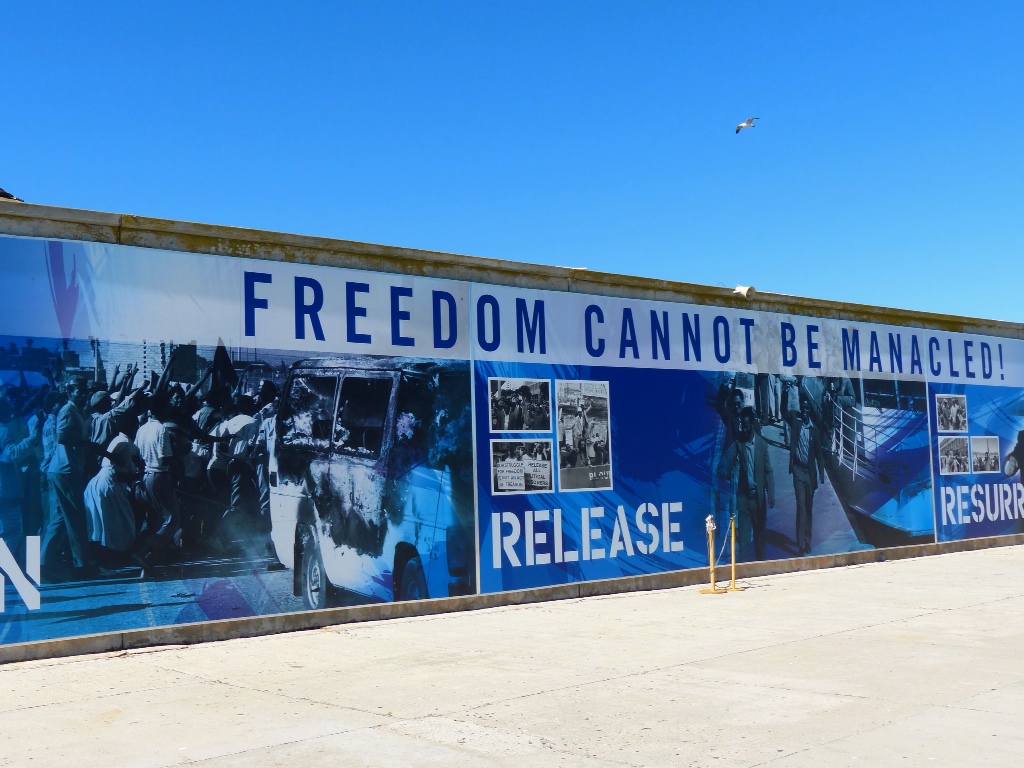 The cell in which Mandela was held for 18 of his 27 years in prison was about 7 x 8 feet. From 1964 (when he was transferred here from Pretoria following his trial) until about 1973 (when sleeping cots were introduced), Mandela slept on a straw mat on the floor with a bucket for a toilet.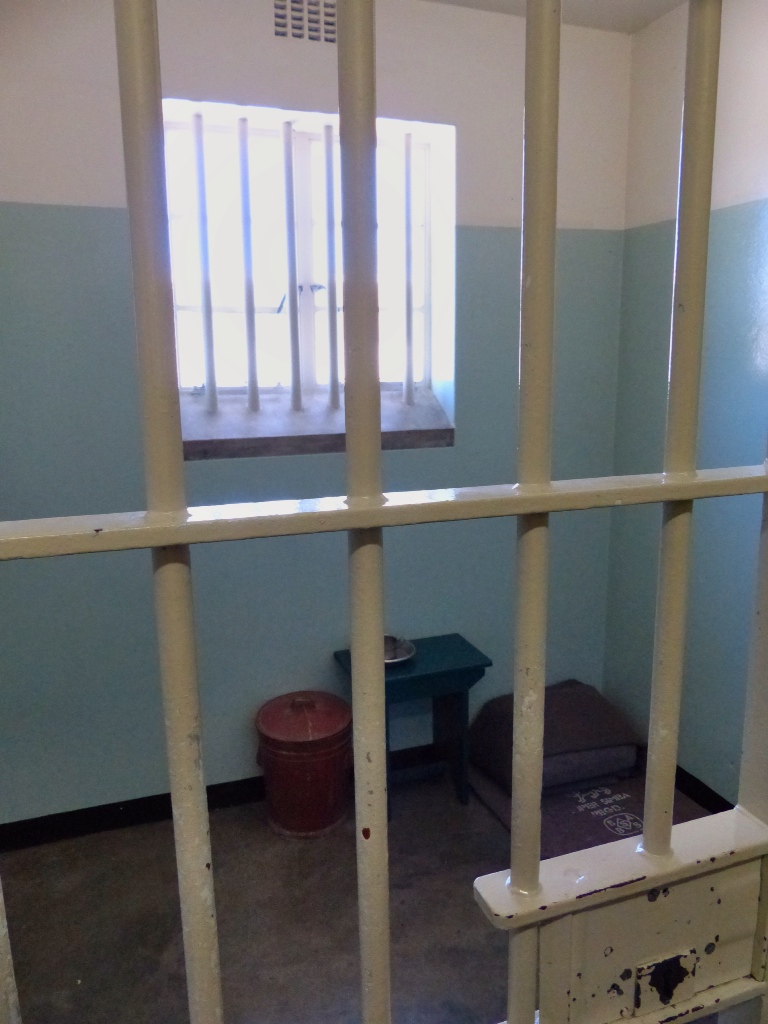 Seeing the conditions in which Mandela was held and the back-breaking work he and other political prisoners were forced to perform in the lime quarry on the island, left us with a sense of amazement as to how he could possibly have emerged from prison with his spirit, mind, and body (except for his damaged eyesight) still intact. That he could then move the country forward in a spirit of reconciliation and progress instead of retribution is a stunning accomplishment. He will certainly never be forgotten.
For our final dinner, we headed back to Pot Luck Club before heading to the airport for our late evening flight.  We were sad (but very full) when it came time to leave, but we knew that we'd be back.
Indeed, we are already planning our next trip to Africa.