Baja to Bozeman: 3500 Miles in Two Weeks
February 24 to March 13 (Todos Santos and El Pescadero, Baja California Sur, Mexico; Bozeman and Big Sky, MT; Lost Trail Powder Mountain, Idaho/Montana Border) —
We landed in Cabo to a welcoming sight. Erin!
After stopping at the Mega for provisions, we headed north toward Todos Santos where we would be spending the following week in a house near the San Pedrito surf break. The house was perfect with two separate casitas in addition to the main house.
V and Erin kept us well fed throughout the entire week, using up food leftover by prior renters in their own version of Iron Chef, and we only ate out once at Mechine's carnitas place (only open when Mechine is not too drunk/hung over to cook).
Each morning, Pete and I were up at dawn to surf. When we had energy, we would head back for a second or third session.
In between sessions, we relaxed at the pool.
And explored the area, including some whale watching as well as beers at the Hotel California.
By the end of the week, the swell had come up and we got a bit abused.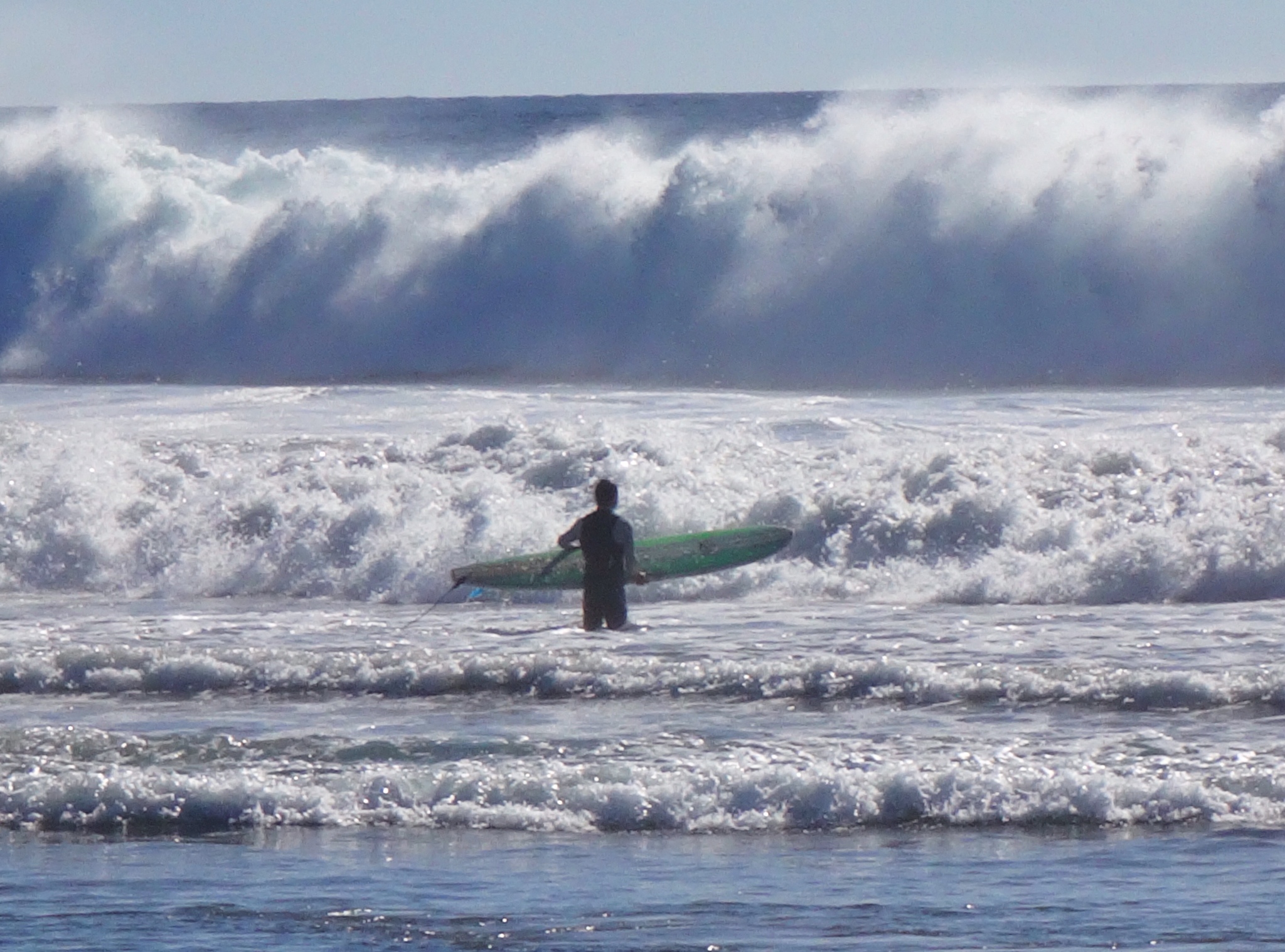 Erin had the right idea with a boogie board.
After an absolutely perfect week*, we returned to SLC.
* Other than Pete's driving, which could never be described as perfect.
Our first stop was a visit to Earl the Boot Whisperer at The Sports Loft who had molded V's perfect ski boots. Earl and his son Jeremy spent all morning setting me up in my new NTN telemark boots.
A brief stop at Second Track Sports landed V a new pair of carbon fiber skis (we were literally in the middle of conversation about how we couldn't splurge on any more gear when this happened, but the skis were way too good of a deal to pass up).
With a storm heading our way, we headed up to Powder Mountain, our favorite resort. We awoke to over a foot of fresh. At the ticket window, we were told that tickets were only $42 due to PowMow's 42nd anniversary, and we were reminded why PowMow is our favorite mountain.
For a first lap, we skinned up to the top of the James Peak, the highest point in the area. After enjoying the view of untracked lines in every direction, we dropped into the first pitch and enjoyed great turns.
For the second pitch, we cut over to the nearby south-facing ridge and were surprised by how heavy the snow was. Normally, PowMow is blower powder, but the lower we got, the heavier the snow became. Indeed, by the second pitch, the snow was only a touch lighter than Sierra Cement.
There were a set of steep chutes that looked appealing, but after I made two turns, the chutes ran down to the January faceted layer that has made the backcountry such a problem from Whistler to Montana to Colorado to, alas, Utah.
I was able to easily avoid the slide by traversing to the side, and V descended via the ridge on the other side. We safely got down. We looped back around for a second run, staying more in the shade to avoid the heavier snow. We had a few more pleasant runs but at the end of the day, we decided that the heavy snow would not ski well the following day so we headed even further north to Montana.
In Bozeman, we picked up my new custom skis from Romp and had them mounted. In the morning, we headed to Bridger to test out both of our new skis.
In 20 years of tele-ing, I have *never* skied a better ski. I am hooked on the Romp Pintail: ROMP HANDCRAFTED CUSTOM SKIS | Handcrafted Custom Skis in Crested Butte Colorado
After a fun day at Bridger, we hit the highest (Yelp) rated restaurant in Bozeman: Roost Fried Chicken. I ordered fried chicken, and V ordered the chicken and waffles.
After her first bite, V began kicking herself that it had taken 39 years and 13 days to discover this amazing combination.
We stuck around Bozeman, and one morning in the Bridger parking lot, we met John and Ramona, two retired academics who were intrigued by Tigger and our stories. They offered to take us to dinner, so after drinks at their lovely ranch, we went down to their local steakhouse. Which was also a strip club on one side.
We now realized why John and Ramona gave us emphatic directions: "Turn RIGHT when you go in the building. RIGHT!" After great ribs and even better conversation, we headed home for the night. We hit hot yoga the next day to loosen up and then headed to Big Sky given the weather radar showing a big purple blob heading straight towards it.
As we drove, what started as rain in the valley, turned into the craziest snow storm in which we've driven since Fernie last year (link). By the time we got to the main entrance, we had seen half a dozen cars on the side of the road. By the time that we got to the Pony parking lot which allowed RV camping, the only other vehicle on the road was a tractor pulling cars out of a ditch. We had to put Tigger into low 4WD (for the first time since we've owned Tigger) to get through the plowed snow-bank into the parking lot. As we settled in for the night, the snowplow driver came over and said, "I thought that you two were jackasses for trying to get up here. When you made it when no one else could, I then thought that you should be considered honorary Montanans."
We woke up to 26" of blower powder on a bluebird day. TWENTY-SIX INCHES!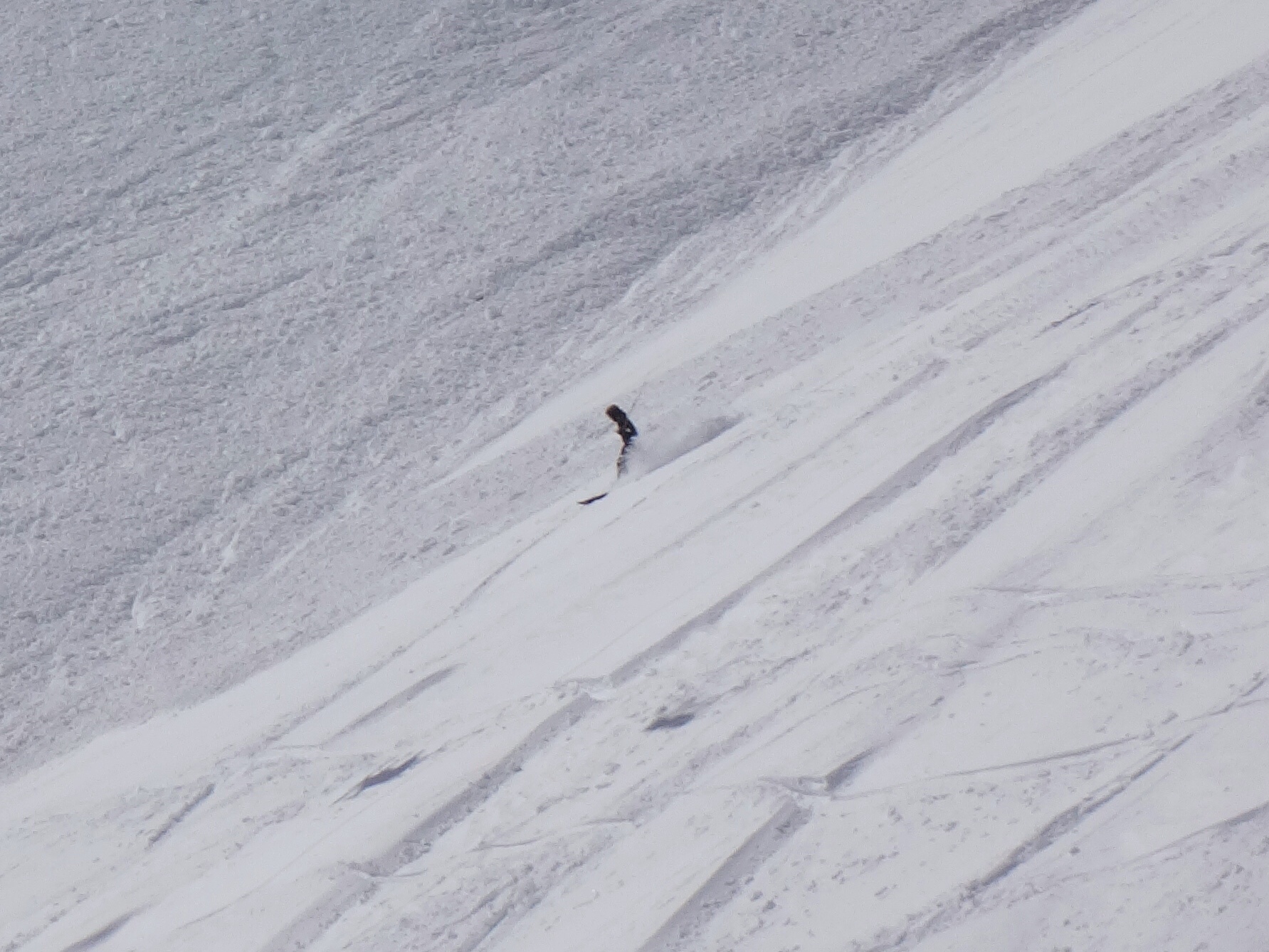 We had an amazing day, and although Big Sky's operations department was way too slow in getting the good stuff open, we skied great snow until closing on one of the best days of the season.
Not wanting to pay for $100 lift tickets again and looking for more fresh snow, we headed to Lost Trail Powder Mountain on Highway 93 on the Montana/Idaho border. Lost Trail is only open Thursday-Sunday meaning every Thursday is Powder Thursday if a storm happens anywhere between Sunday post-closing and Thursday opening. For us, it meant that all the snow from the storm that hit Big Sky was untracked. We pulled into Lost Trail and parked for the night.
We woke to another bluebird day and untracked lines as far as the eye could see. We hit the windows and plopped down $39 for lift tickets.
We then got first chair, which was easy given the 9:30 opening time and our lodging a few steps from the lift.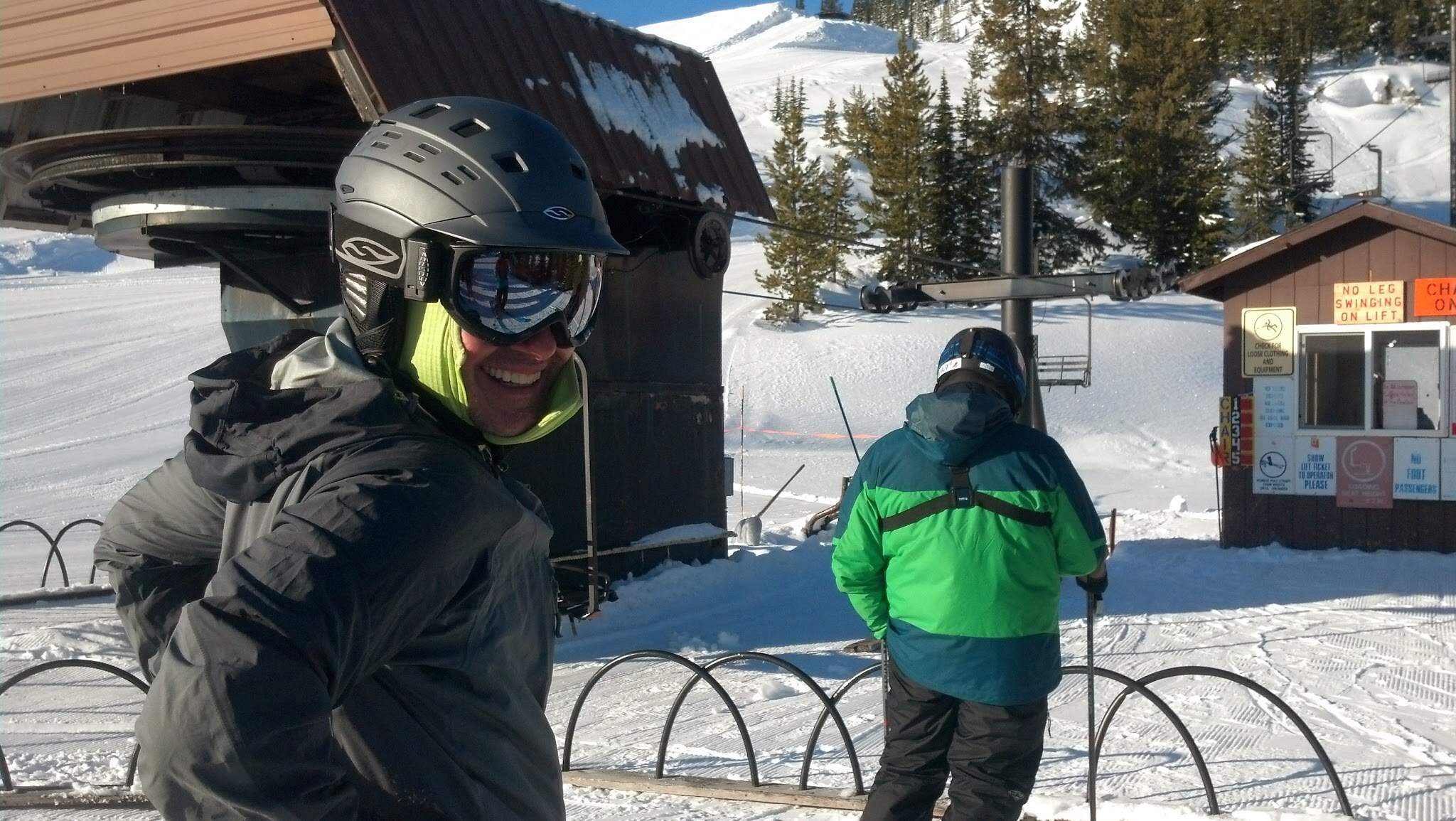 Our first run was on an untracked chute through trees that still held light pow. After an amazing run, we grabbed the rope tow to head back to the lift.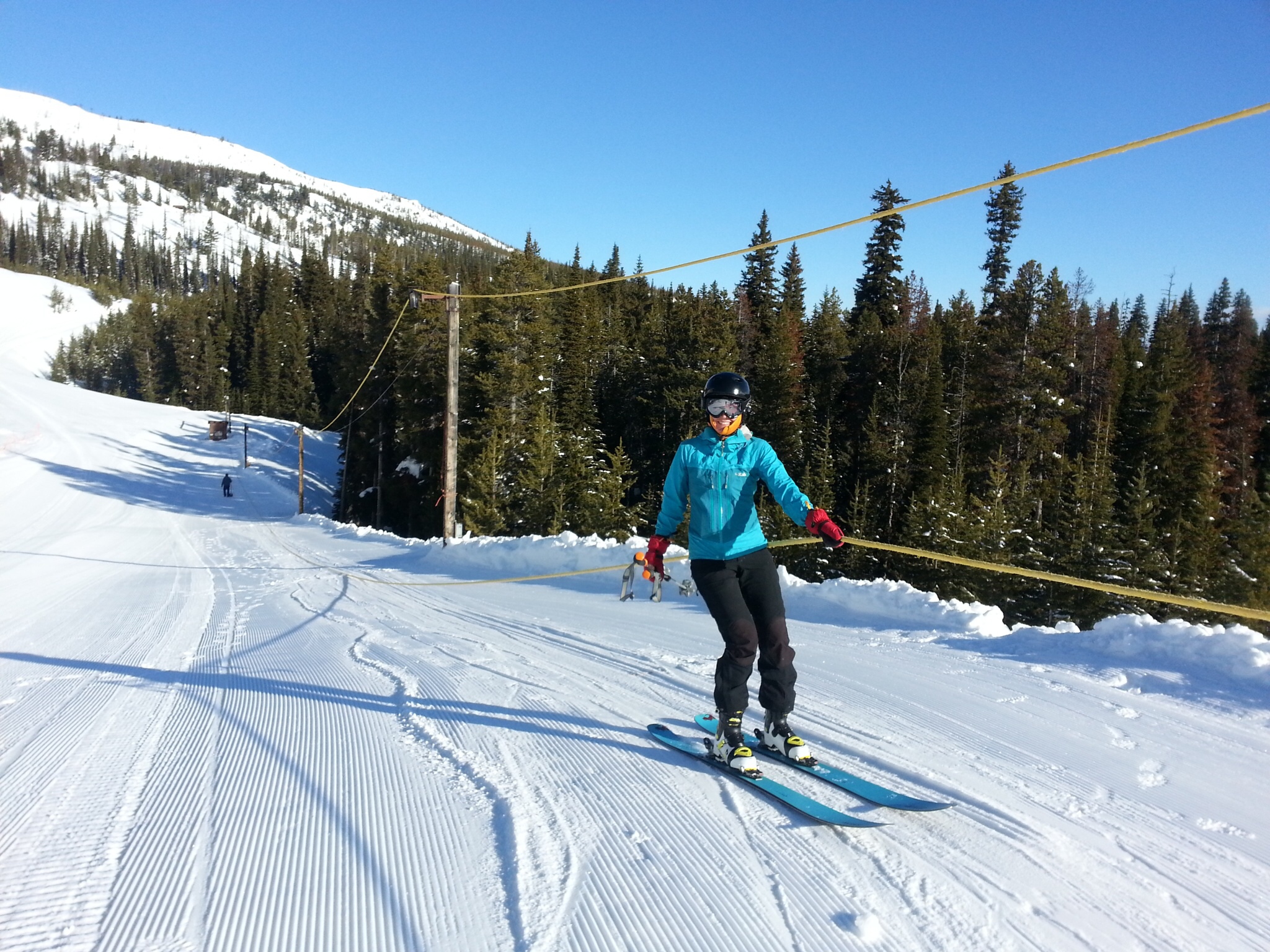 After six runs enjoying nice chutes and tight trees, ours were still the only tracks. LT had opened up Chair 5 which accessed over half the terrain on the mountain. It was the perfect lift for us: Untracked pow everywhere (even at 3pm) and a 15-minute ride that allowed us to refresh our legs.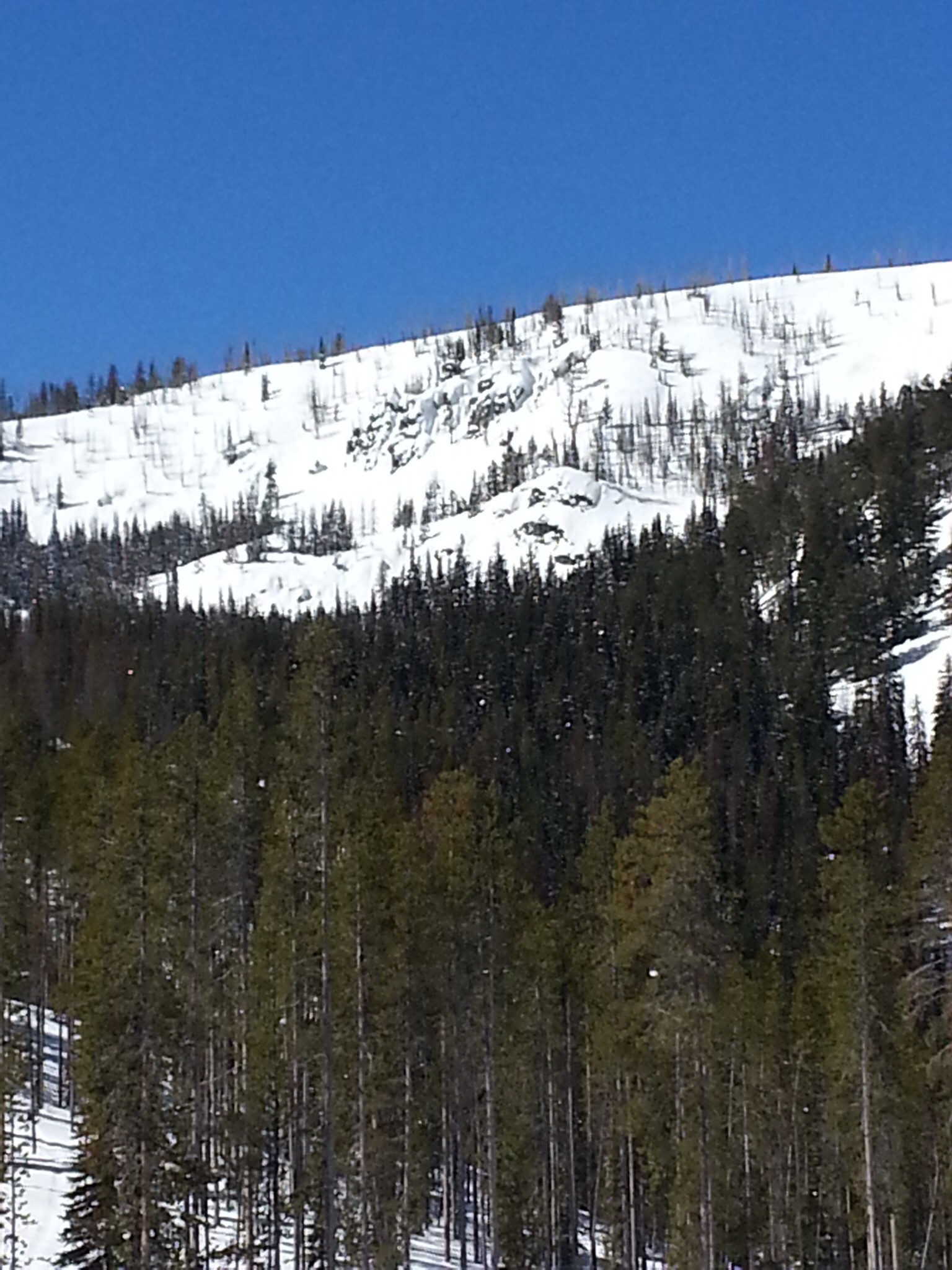 We skied until close, and then grabbed amazing steak sandwich and burger (for $6) in the lodge.
LT is now one of our favorite resorts, and we'll have LT penciled for every Thursday after a snowstorm when we are in the States.