Biking the Willamette Valley & Oregon Coast
May 19 to June 3, 2014 (San Diego, CA to Salem, OR to Crescent City, CA) —
A pre-dawn ride to the train station was not how we envisioned starting this bike tour, but Mark swore it was all down hill to the station and well-lit by street lights through Balboa Park and then downtown.   What he meant to say was, "I just don't want to get out of bed at 4:30 a.m. to drive you to the station."
Three frantic days of organization after returning from Costa Rica had us ready to start our bike trip, and after the challenging pre-dawn ride due to my bike headlight being out (the bulb fell out halfway there), we eventually reached the San Diego Amtrak station at about 5 am to prepare our bikes for our 6 am train.  We had been provided with some wrong information by the Amtrak representative by phone (turns out that we did need to remove pedals and loosen and turn handlebars), so we hurried to pack our bikes into the Amtrak-provided boxes and board our train.  We were soon off to LA.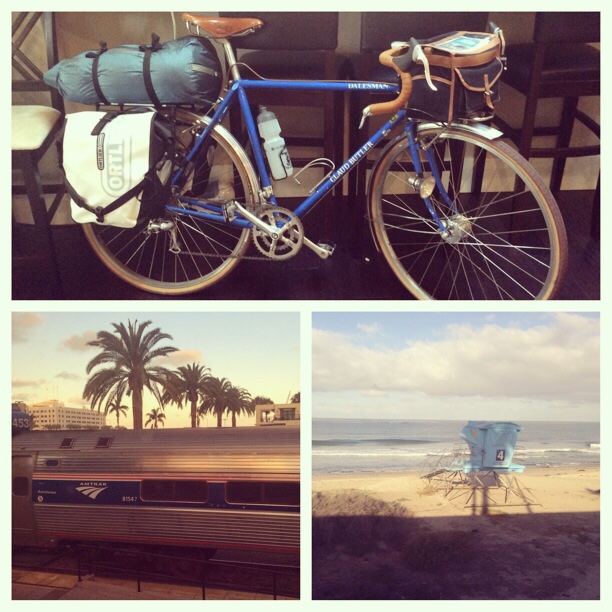 We switched trains in LA, which allowed us to grab some good food on Olvera street before settling into our private room on the Coast Starlight train for the trip to Salem, Oregon.  We planned to bike from Salem into the Willamette Valley to spend the weekend "warming up" for our tour while wine tasting.
Once we were out of the LA metropolis, we were soon hitting a marvelous portion of the California coast that we had never seen.  The train goes through areas that the highway does not – e.g., on the ocean side of Vandenberg Air Force base.
We soon left the California coast and hit the central valley, and I fell asleep as V continued to take in the scenery.
After a good night of sleep, we awoke in Oregon to pastoral scenes of cows and distant snow-capped mountains.
We disembarked in Salem in the early afternoon and put the bikes back together.
May 23 – Salem to Newberg in the Willamette Valley (39 miles and 680′ of climbing):
We overnighted in Salem, and hit the road the next morning for the first day of our tour.  It poured and within the first two hours I got my first flat tire.
We had a much slower pace in the rain and soon ran out of drinking water, so we decided to cut our route short by crossing the river by ferry to access the more direct roads to our destination.
All was fine until we realized this "short cut" put us on a road with terrible traffic and no shoulder.  After a frazzling couple of hours cycling into a headwind, we stopped for lunch in Dayton, Oregon and were resuscitated by some awesome burgers.
On the advice of our server, we then took a pedestrian/cyclist bridge to get back to the main road.  This required a little cross-country riding on grass and gravel paths, which was not an easy task on loaded touring bikes without fat tires, but we made it.
After a very long day, we finally made it to our B&B in Newberg.  Sadly, we ended the day with only one glass of wine before falling asleep from exhaustion.  It was an inauspicious start, and V was not happy with the ratio of wine to biking.
The next day, our friend J came down from Seattle and we took a day off from biking to get stuck into it at the local restaurants, having a fantastic dinner at a new restaurant in Newberg called Ruddick/Wood.  Best food in the Willamette Valley, by far.
May 25 – Ribbon Ridge Wine Tour (21 miles and 1,200′ of climbing):
Since it was Memorial Weekend, most wineries were open for tastings.  We hit the road early, and the three of us biked straight to the Brickhouse winery, which is only open for tasting one weekend a year.
We tasted five fantastic pinots, plus a rose that we loved.  The rose was so good that we bought a bottle and carted it around all day.
After leaving Brickhouse, J got us lost but we eventually made it to Bergstrom (unfriendly and unwelcoming) and Adelsheim (good but not as good as Brickhouse). After running across a surprising number of alpacas(?).
We headed back to our home for the weekend, where I napped while V and Jay hit the ice cream shop for the first of what was to become our daily ice cream stops.
Having tasted 17 wines and only ridden 21 miles, V was much happier with our wine to riding ratio.
May 26 – Newberg to the Coast Part I (40 miles and 3500′ of climbing):
V and J were up early to visit a few more wineries by car, and then V and I loaded up the bikes and hit the road to head out to the Oregon coast.  We had made plans eat lunch with J in Carlton (last town this side of the coastal mountains), and V and I arrived exhausted due to fighting a headwind the whole way.  A quick lunch with J was accompanied by the Brickhouse Rose, and then we started the climb over the coastal range.   J joined us for the first half of the climb (a) to work off the wine, and (b) because that woman has way too much energy.
J left us to head back to Seattle and the real world, and V and I mashed our way up what was a far steeper hill on loaded touring bikes than we (I) had budgeted for mentally.  Indeed, unbeknownst to us at the time, it would turn out to be equal to the hardest climb we would do the entire trip.  But the scenery was great and we eventually made it to the summit.
Where I promptly laid down for a short rest.
A gorgeous descent along a river brought us to our secluded campsite for the night, next to a waterfall. There was literally no one else around.
We were exhausted and crawled into bed at 8:30pm.  And laid awake for the next two hours as we waited for the sun to set and the light to finally fade.
May 27 – Newberg to the Coast Part II (50 miles and 3100′ of climbing):
We were up early as the sun hit the tent, and the ride out was empty other than a deer and her fawn.  The fawn was so young, she didn't know enough to be scared of humans and walked to within a couple of feet of us before her mother called her into the trees.
We finally hit the coast, and I took a well deserved rest as we soaked in the Pacific.
On our first descent on the coast, my rear tire blew and we discovered a staple deeply embedded in the tire.  I removed the staple and created a "boot" to repair the cut in the tire – duct tape and a folded dollar bill.  It would hold for several hundred miles.  Exhausted from the climbing (and drinking with J), we pulled into a hotel in Lincoln City where we refueled and rested.   Well, I did.  V worked on the bikes.
May 28 – Lincoln City to Newport (28 miles and 2000′ of climbing):
We awoke to a cold and rainy day, plus a prediction of lightning storms. We don't mess with the latter, so we waited until mid-morning for a weather window and hit the road.  Gorgeous ocean views followed, and would stay with us for the rest of the trip.
In addition to the ocean, we of course got to see plenty more alpacas(?):
The weather threatened again, so we called it a day in Newport.  After getting situated at our motel, we walked to the harbor and explored a little before dinner.
On one of the wharfs was a large concrete block.   Closer inspection revealed it was a piece of a Japanese dock that washed up in Newport after the April 2011 earthquake and tsunami that caused the Fukashima nuclear disaster.   Sobering.
May 29 – Newport to Yachats (25 miles and 900′ of climbing), May 30 – Yachats to Winchester Bay (52 miles and 4400′ of climbing), May 31 – Winchester Bay Rest Day, June 1 – Winchester Bay to Bandon (50 miles and 3000′ of climbing):
The next few days would bring gorgeous coastal riding, no rain, and tons of food.
Indeed, we had reached the part of the trip where we simply could not eat enough given how much we were riding.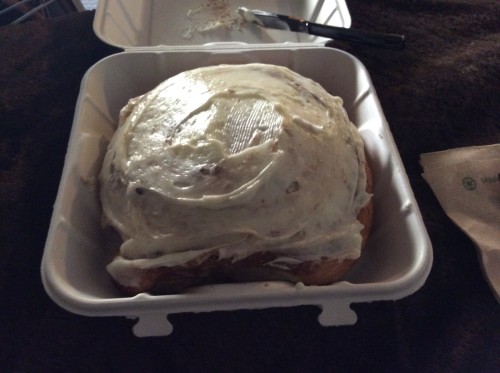 June 2 Bandon to Gold Beach (51 miles and 4100′ of climbing)
We splurged in Gold Beach, OR for a hotel that came with a hot tub on the beach. Our tired legs appreciated it.
June 3 – Gold Beach to Crescent City (54 miles):
Our last day in Oregon brought us to the largest town we had visited in a bit – Brookings. Brookings was lovely and the people (and food!) were great. We were feeling pretty chuffed having ridden almost the entire coast of Oregon.
In Brookings, we even found a good bike shop where I could finally pick up a spare tire (I was still riding on a cut tire from the prior week – foreshadowing).
After the obligatory stop at the "Welcome to California" sign, we headed to Crescent City fighting a brutal headwind the whole way.