Alps to Ocean Bikepacking
August 2015 (Lake Pukaki to Oamaru, New Zealand) —
With no new snow in the forecast for a week, we headed out to bike the Alps to Ocean trail (alps2ocean.co.nz).   Due to winter conditions, the normal start near Mt. Cook was closed so we started at the alternate trailhead near Lake Pukaki.
Day 1 (Lake Pukaki to Twizel)
We awoke to grey skies and a surprise snowstorm.  My crank and pedal had fallen off somewhere during transport (we later found it near our house), so I rented a bike for the day and, of course, called Mark Dickson to rescue me by sending a replacement crank and pedal.
The sky cleared later and the views were worth it, but we were reminded that the weather in NZ, like the snow, is always variable. The riding was great and we had some good laughs.
Day 2 (Twizel to Lake Ohau)
Day 3 (Lake Ohau to Otematata)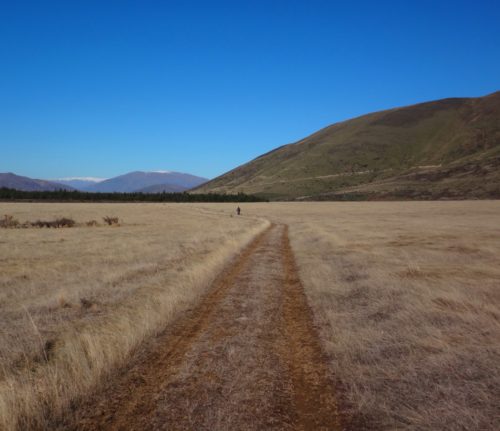 Day 4 (Otematata to Oamaru)
Downhill all the way to Oamaru, they said.  It will be an easy final day, they said.  Negative 2*C, rolling hills, some steepish muddy sections, and a cold fog all the way to the ocean, I say.  Good fun though.
We did come out of the trail with advice for future riders:
1. When you are debating whether you should bring your heavier Gore-tex jacket "just in case it really rains" — you are deluding yourself.  You'll need it in case it snows.  Or when it's -2*C and you ride through a cloudy mist all morning.
2. No matter your direction of travel, you'll always have a headwind.
3. Even if you're riding from the Alps to the Ocean, it will feel almost entirely uphill.  Any downhill will be negated by a headwind.
4. In case you're wondering what an electrical fence feels like, don't touch it.  Just ask David. [David:  "It looked like twine!"]
5. If your friend tells you that he's "a shit bike mechanic," listen to him.  Even if he works on bikes for a living.  Otherwise, your crank may fall off.
6. NZ is even more beautiful than you think.  The pictures do not do it justice.
7. The people are even better than you think. Thank you unknown bike shop for salvaging our trip after we lost our crank. You went far beyond the call of duty. Thank you to Mark Dickson for sourcing and couriering the replacement crank and getting me back on my bike quickly with only a half day of time lost.  And thank you random Dunstroon farmer woman who chased us down on your quad to tell us we had missed a turn.  For future reference, the section of the trail you put us on is not finished and deadends in the middle of nowhere . . . . but thanks for trying to help!