June 11 – 21 (Durango, CO) —
Goldilocks would be happy in Durango.  Not too big, not too small.  Just right.   The proof that we loved Durango is that we actually stayed there for 10 WHOLE DAYS.   Which is like an eternity for us given that we've moved every few days for the last 4 months.
Durango seriously rocks.  And has lots of great rocks to climb.  We rolled into town on a Monday and within hours got hooked up with a great rock climbing guide.  The next day, we headed out to East Animas crag to climb with Bill Grasse of San Juan Mountain Guides (www.mtnguide.net):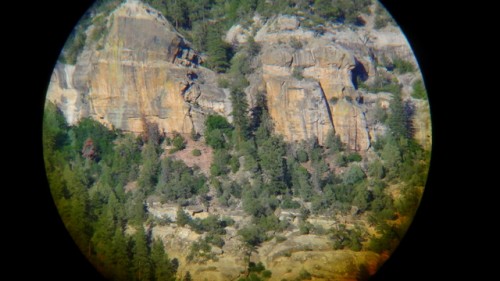 My first ever outdoor climb was this route — Yellow Pages (5.6):
Bill was AWESOME.   We highly recommend him as a guide.   After we climbed a few times, he taught us how to build anchors (which was our goal for the day, aside from getting me some experience climbing on real rock):
Here's David demonstrating the strength of an anchor he built, while I'm paying no attention: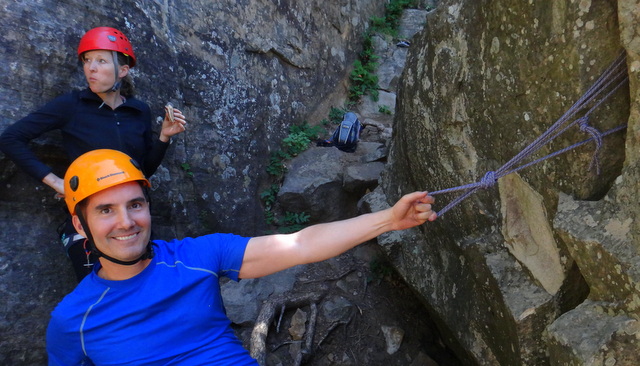 We then climbed a slab called Face to Nowhere (5.7):
It has a tricky move (at least to me) near the top where you have to almost leap to the right, switching most of your weight on a very extended right foot in order to get your hand onto the outside edge:
We then went over to X-rock to build more toprope anchors:
After our day of guided rock climbing with Bill, the owner of San Juan Mountain Guides asked if we would like to be "clients" for two guides who were being tested for certification as single pitch instructors.   This would involve two more days of guided rock climbing instruction for me, for FREE.   Um, yes, sign us up!
So we headed back to the Gullies of X-Rock and then to East A for more climbing with Casey (the evaluator) and Ryan and Heather (the new guides).
We both learned to rappel, which was fun and a good skill to have:
Our final climb was back at East A on I Need a Shower (5.7+):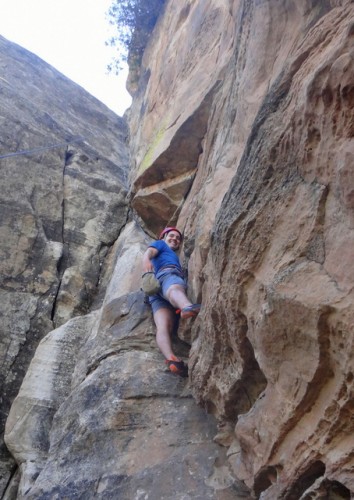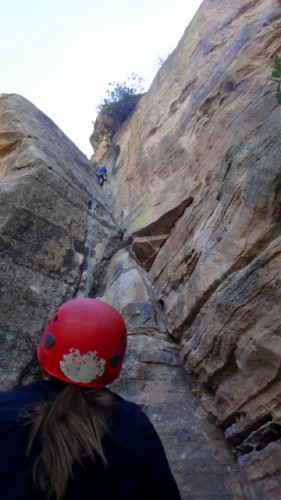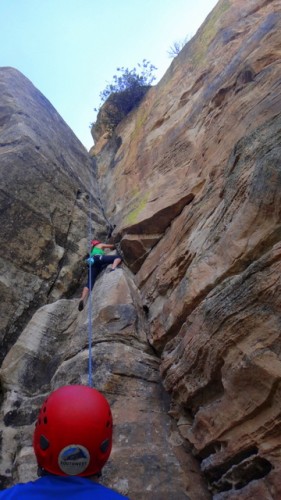 After four days of rock climbing, our arms were shot.   So we headed north to ride the Hermosa Creek Trail, a 20 mile classic that starts near the Purgatory ski area.
This trail throws it all at you.   Double-track, single-track, rock gardens, sheer drop offs to the creek, bridges, and stream crossings: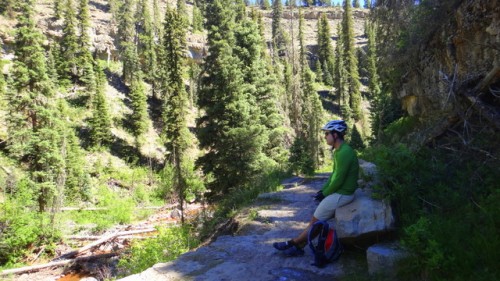 We had camped on public land at the end of the trail.  When we got back to Tigger there was a herd of cows passing only a few feet away!
Despite the cows, we loved our time in Durango and will surely be back someday.
———————————————
Good Eats:
Michele's Corner — corner of College and Main — crepe truck run by a Belgian chef.  Ham, gruyere, and tomato crepe was to die for.
Zia Taqueria — on Main near 28th St. — Solid Mexican food even if it does look like a Chipotle.  Carne asada tacos particularly good.